LCD Digital Microscope, SKYBASIC 4.3 inch 50X-1000X
LCD Digital Microscope, SKYBASIC 4.3 inch 50X-1000X Magnification Zoom HD 2 Megapixels Compound 2600 mAh Battery USB Microscope 8 Adjustable LED Light Video Camera Microscope with 32G TF Card
Product details of SKYBASIC 4.3inch Digital Microscope 50X-1000X Magnification Zoom HD 1080P 2 Megapixels Compound 2600 mAh Battery USB Microscope 8 Adjustable LED Light Video Camera Microscope with 32G TF Card
LCD Digital Microscope, SKYBASIC 4.3 inch 50X-1000X Magnification Zoom HD 1080P 2 Megapixels Compound 2600 mAh Battery USB Microscope 8 Adjustable LED Light Video Camera Microscope with 32G TF Card
☁【4.3 inch LCD Screen】: Amazing images and videos showing on 4.3 inch large screen. The Home Microscope has magnification levels of 50x to 1000x, which are standard on the best-quality microscopes. Its smoothly-rotating head makes it easy to working with this microscope. The precision fine and coarse focusing brings specimens into focus quickly and sharply.
☁【Adopted 8 Adjustable LED Light】:The 8 Adjustable LED illuminator ensures your specimens are clear and bright. An included metal stand allows for steady shots and comes in handy when viewing at powers your specimen in sharp focus.
☁【2MP HD 1080P Camera】:Great for the classroom, factory or home, the sensor camera allows for streaming and still recording. Still images directly to the onboard Micro SD slot (32GB TF card is included) while viewing on monitor. Use the included fully adjustable stand the microscope to get the perfect image or video.
☁【Support Connect with PC】:Connecting it with your computer via USB cable. The included PC software make recording HD videos simple allows you to take accurate measurements of your specimens. Depending on your screen size, you can achieve up to 50-1000x magnification for traditional slides or 3D specimens like stamps, coins, bugs, plants, rocks, skin, gems, circuit boards, and more.
☁【Built-in 2600mAh Rechargeable Battery】:Built-in rechargeable lithium-ion battery (2600mAh) to 4 hours continuosly working time.Also have professional, adjustable height stand included for hands-free operation. It's well suited for hobbyists, quality control inspectors, medical professionals, and scientific researchers.

,
50X~1000X Magnification
SKYBASIC 4.3inch Digital Microscope Featuring 50X-1000X magnification can satisfy most of our daily needs and allow us to see the smallest details of the microscopic world clearly with a 2.0 MP high quality camera sensor. Various magnification images are obtained by rotating the focus wheel.
: The microscope has only two kinds of resolution: 50X and 1000X.
,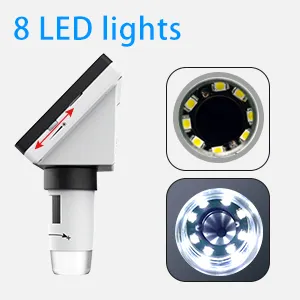 8 Adjustable LED Lights
8 built-in LEDs with brightness adjustment, allowing us to set the desired level of illumination to get a perfect view in all kinds of environments.
: The 32GB TF card is in the card slot.
Specification:
LCD Digital Microscope, SKYBASIC 4.3 inch 50X-1000X
LCD Digital Microscope, SKYBASIC 4.3 inch 50X-1000X